Mobile Website Templates
This page contains mobile website templates. At the top of the page, you'll find free mobile templates. These are separated into two categories - online/hosted and downloadable. Under the free mobile templates you will find premium templates, designed by professional mobile site designers.
Free Downloadable Mobile Website Templates
These free downloadable mobile website templates are ideal for anyone looking to create a mobile version of their website. Feel free to modify any template as you wish!
To use a mobile website template:
Download the mobile template of your choice
Unzip the files into your chosen directory
Add your own content (and modify template as you wish)
Create a sub-domain at your website.
Upload to your mobile website into the sub-domain folder.
You can also modify your website so that it uses a different style sheet for mobile devices than for other devices. To learn more about this, see CSS media types.
The above steps assume that you have a hosting provider. If you don't have a hosting provider, try ZappyHost.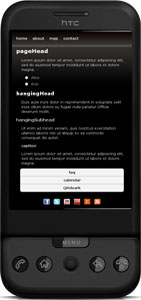 Noir
This is the free version of the Noir template.
The full version includes an expanded style sheet with additional formatting options, examples of embedded Google Maps and Google Calendars, a library of buttons and icons, sample pages, and tips & tricks specific to mobile web development.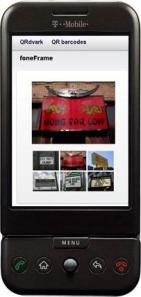 FoneFrame
This is the free open source version of foneFrame (CC BY 3.0).
The paid version has a number of expanded style sheets that display HTML5, XML, RSS, & Server Side Includes (SSI) files as mobile web pages. These CSS files include additional formatting options and provide a way to display machine-generated files on smartphones. The full version also has instructions for embedding a Google Map and displaying images using thumbnails.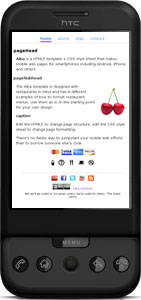 Alba
This is the free version of the Alba template and it's designed with restaurants in mind.
The full version of Alba has an expanded style sheet used to format restaurant menus. There are 8 different menu layouts to get you started.
It also shows you how to embed a Google Map into your mobile site, it includes a library of buttons and icons, and has a collection of tips & tricks specific to mobile web development.
Online Mobile Templates
These online mobile templates allow you to create your mobile website within minutes. Hosting included!
Perfect for those who need to build their mobile website from scratch. You create your mobile website using the IMCreator online site builder - one of the quickest ways to create a mobile website. Using these templates, you will have your mobile website created in no time at all!
You can find more online mobile templates here.
Premium Templates
Take your website design to the next level with this massive selection of premium templates. All premium templates have been designed by professional web designers and are available for a small charge. Includes Flash templates, CSS templates, WordPress templates, Word templates and much more.
Customize Your Template
Here are a few ways you can modify your HTML template.