Create a Website
Anyone can create a website... within 30 minutes.
Welcome! My name is Ian. I've been creating websites since 1996. If you need to create a website, but don't know where to start, you've come to the right place!
Here, I explain how to create a website. I also explain how to get your own domain name (eg, www.yourname.com), and how to host your website (make it available to the world).
No Experience Needed!
Did you know that anyone can create a website? Not only that, but did you know that you could make your own website within the next 30 minutes?
Here's an example website that I created in about 5 minutes using the online website builder at ZappyHost. I could have added a lot more to it, but I wanted to show you what can be done within 5 minutes. As you can see, it looks like a finished website.
The website builder makes it easy to create a website. It is especially useful if you just want to make a website quickly without having to learn the technical stuff like HTML, CSS, etc.
The best part about it is that it is an online website builder. This means that you don't need to download anything. Everything is done online.
So if you need to create a website ASAP without learning all the technical stuff...

A Warning about Free Websites
You might occasionally encounter companies offering you a free website. Basically you can sign up, and start building your website for free.
But... a word of caution!
There are things they might not tell you when they're trying to sell you a free website. While a few companies will be completely upfront about these extra costs, others will fail to mention them ...until you've signed up:
Your "free" website does not have it's own domain name (i.e. www.yourname.com). If you want your own domain name, you'll have to pay for it. And you will probably pay more than you should.
Your "free" website may have ads displayed all over it. This enables the company (not you), to earn money from your website. To remove the ads, you will usually have to pay money for a premium package.
Most of the really good features are actually part of a "premium" package - which you have to pay for.
So, if you're shopping around, check for those three things before you sign up.
If you do choose the free option, I would highly recommend that you get your own domain name. Registering your own domain name is the best piece of advice I can give. Without this, your website does not have it's own "web address". This might not sound like much now, but later, once you've built up a fantastic website with loads of content, you will see what I mean. Without your own domain name, your "web address" is not actually yours, it's the company who provides your "free" website. If they decide to change something, you could lose all your hard work. Imagine losing months, or even years, of hard work, just because you chose not to register a domain name!
You can search for your domain name at ZappyHost.
The Website Creation Process
Now if you choose not to use an online website builder, you are probably curious to know what is involved in making a website. Here are the three main steps of creating a website.
Register a Domain Name
Get a Web Host
Build your Website
Doing it in this order is required if you choose to use your web host's online website builder. Actually, the first two steps can be done at the same time (you can register the domain name at the same time you sign up for the website builder).
If you prefer to code your own website, you can do the steps in any order you like.
Below is an explanation of the above steps.
Step 1: Register a Domain Name

Before you even think about building your website, you should think about its domain name. A domain name is the thing that looks like this: "yourdomain.com".
Your domain name represents the URL (or permanent web address) of your website. Therefore, when anyone types in "yourdomain.com" or "www.yourdomain.com", they will see your website.
You get a domain name by registering it through a domain name registrar or hosting provider. You simply check that your preferred domain name is available, then register it (online).
Domain names are registered on an annual basis, and you can usually register it many years in advance (or set 'auto-renew').
Prices can range from between $10 to $15 up to as much as $35 or even $45 (this is for the same product!). ZappyHost has some of the best prices on the web - and if you purchase hosting at the same time, the domain name is even cheaper ($1.99 at time of writing).
If you don't have a domain name yet, get one now (before someone else beats you to it!)
Step 2: Get a Web Host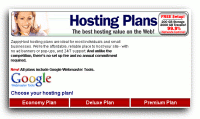 A web host (or hosting provider), is a company that makes your website available for the world to see. They have the equipment and technical skills to make sure your website is available to the world, 24 hours a day, 7 days a week.
Choose your hosting provider carefully - a good host will have excellent support. A bad host can have almost no support at all! If you're new to creating websites, good support can reduce the stress that comes from doing something for the first time.
Also, some web hosts have an online website builder. A good website builder can enable anyone to make a website - even complete novices.
If you don't need a website builder (i.e. you prefer to build your website by yourself), you can find some great hosting packages here. This allows you to build your website on your own computer, then upload it to your hosting plan when you're ready to go live. The common method of uploading website files is by FTP.
If you'd like to learn more about web hosts, check out my web hosting tutorial.
Step 3: Build your Website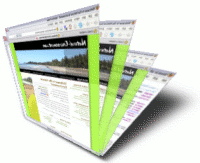 This part can be as easy or as hard as you like it to be!
The easy way? The easiest way to build a website is to use your web host's website builder (assuming they have one). As mentioned, ZappyHost provides an online website builder which makes it extremely easy for you to make your website.
The hard way? OK, if you think a website builder sounds too much like cheating, you probably want to learn how to build a website the way the pros do it - by coding/programming. If this sounds like you, then see this introduction to making your own website. Also check out the Quackit homepage for links to thousands of pages of tutorials and other web building resources.
Creating a Blog
Creating a blog is similar to creating a website. You use exactly the same steps as outlined above. However, there are some minor differences between blogs and websites.
Some hosting plans include a blog builder. These are very similar to online website builders, but they use blogging software instead. Blogging plans like this automatically create a blog for you when you sign up. For example, this is what ZappyHost's WordPress hosting does.
Shopping Carts & Ecommerce Websites
Websites with online stores are often referred to as "ecommerce websites". Ecommerce websites usually have a shopping cart that customers can add products to. Once the customer is ready to purchase your product, they can proceed to the checkout where they can register as a customer, pay for the product, provide shipping details etc.
Ecommerce websites are a little more complex than basic websites. For example, an ecommerce website needs to have an administration section where you can add/edit products to display on your storefront (along with other details such as price, description, size/color options, etc). The website also needs to enable customers to search your product catalog and purchase your products.
Because of the extra requirements of an ecommerce website, you will need more than a simple website builder. If you need to build an ecommerce website, check out the Quick Shopping Cart ecommerce website builder.
FAQ & Help
Still not sure about how to go about creating a website? Check out the following: