Routeburn Track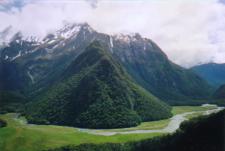 The Routeburn Track is one of New Zealand's "Great Walks" (as named by the Department of Conservation - DOC) and covers 32 kilometres between Mt Aspiring National Park and Fiordland National Park. The Routeburn Track's highest point is Harris Saddle (1,255m) and the lowest point is Routeburn Shelter (start or finish point) at 458m. At 532m, The Divide is at a similar altitude, so the first part of your walk is uphill and the last part of your walk is downhill (generally speaking).
Most people take 3 or 4 days (2 or 3 nights) to walk the Routeburn track, although you could do it in 2 days - or even 1 day if you'd rather be some place else. If, once you begin the Routeburn Track, you would rather be some place else, please let me know where that place is!
You start the Routeburn Track from either end (Routeburn Shelter or The Divide) and you will need to arrange transport to the start and from the finish as each end is at least half an hour's drive from any accommodation. Both Routeburn Shelter and The Divide have a shelter, carpark and toilets but DOC prohibits you from camping in these shelters.
Day 1 - Routeburn Shelter to Routeburn Flats
6.5 km, 1.5 - 2 hours
Start the day by crossing your first swing bridge, then following the Routeburn River gradually uphill through beech forest. The Routeburn River is crystal clear and you will be tempted to jump in for a swim despite its icy cold temperature.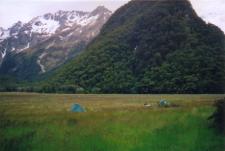 After around 1.5 hours of steady uphill walking, you will find yourself approaching Routeburn Flats. Another 20 minutes or so and you're at Routeburn Flats Hut. The campsite is 5 minutes from the hut.
Routeburn Flats campsite is right beside the river and includes a cooking shelter. A pit toilet is close by too. Note that the cooking shelters on the Routeburn are little more than a sink/water supply, bench, and a roof. No walls.
I prefer Routeburn Flats campsite to Lake Mackenzie campsite. This is probably because Routeburn Flats campsite has a more spacious, open feel.
Day 2 - Routeburn Flats to Lake Mackenzie
13.6 km, 5.5 - 7.5 hours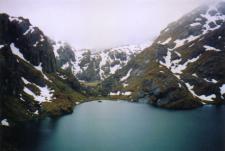 The day starts with what is probably the hardest uphill part of the track. 1.5 hours gets you to Routeburn Falls Hut, which is where most people stay on their first night (or last night if they're walking in the other direction). There is no campsite here so if you are camping, Routeburn Flats is the only option. Just behind the hut is the beautiful Routeburn Falls.
Until now, much of the track has been through forest. This is about to change. You will spend most of today hiking through a rugged landscape passing numerous creeks along the way to Harris Saddle. The icy water from these streams tastes as good as it looks. DOC always warns hikers to boil their water as a precaution but most people just drink straight from the creeks.
Harris Saddle is the highest part of the Routeburn Track (well to be precise, the Harris Saddle side track to Conical Hill is slightly higher).
There are two shelters at Harris Saddle - one for the guided walkers, one for the freedom walkers. Most people have lunch at Harris Saddle shelter before continuing on to Lake MacKenzie.
Lake Mackenzie Hut is right beside the lake. There's a hut for guided walkers about 10 minutes away, and the campsite is in between (away from the main track though).
Day 3 - Lake Mackenzie to The Divide
12 km, 4 - 5.5 hours
Although most of today is downhill, the first hour or so is uphill. Spectacular waterfalls and views over the Hollyford Valley can be seen (as long as the clouds keep away). Stop at Lake Howden for lunch before continuing on through the forest to The Divide. I highly recommend the side trip to Key Summit. This winds steeply up the hill not long after leaving Lake Howden. Key Summit provides 360 degree views of the surrounding mountains and valleys and is one of the highlights of the Routeburn Track.