Online Website Builder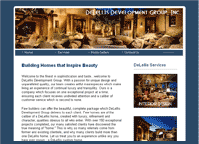 View Sample Website
DeLellis Development Group, Inc. (Built with Website Tonight)
The fastest way to create a website is to use an online website builder. An online website builder enables you to create a website using your browser. You don't need to install any software on your computer.
Website Tonight is a cheap, online website builder that includes hosting and plenty of extras. No technical knowledge is required - anyone can use it.
And just because it's cheap, doesn't mean that it's lacks in quality. Quite the opposite in fact. Many professional companies have used Website Tonight to build their web presence.
Website Tonight includes over 800 professionally designed website templates. There's also a graphics library with over 8,000 professional images. Website Tonight is a truely professional website builder that can make your website look like it was created by a professional web designer. In fact, it includes so many features, I decided to list them all at the bottom of this article (because they took up so much space!).
So, if you want to build a professional looking website with a cheap, online website builder (or if you're looking for cheap hosting with an online website builder!), you should definitely check out Website Tonight by ZappyHost.
Plans start from around $4 or $5 per month - hosting included.

Overview of Features
Website Tonight includes the following features:
Flash Animation Introductions - Select from over 60 introductions in various categories.
Music Upload - Add music to your Flash Intro or to a specific Website page.
Forum - Create a forum for visitors to post messages or engage in discussions
RSS Feeds - Plug your site into various RSS (Real Simple Syndication) news feeds that keep your content fresh and visitors coming back for more.
Guestbook - Add a guestbook to your site to see who's been visiting!
Video Uploads - Add movie and video files to your site.
Free Templates - Over 800 professionally designed templates (View Samples).
Free Images - Over 8,000 professional images.
Easy Form Builder - Add movie and video files to your site.
Build websites for mobile phones! - (View Samples)
Many more!
Features (More Detail)
All 3 Website Tonight plans (Economy, Deluxe, and Premium) include the following features:
Page Elements

Guestbooks
Customize and Add Label
Supports JavaScripts
Navigation Buttons
Hit Counter
Music Plug-in
Scrolling Marquee
Date / Time Stamp
Add Photo Album Links
Slideshows within Photo Album
Easy Form Builder

Web Site Management & Tools

Secure Hosting with Generous Disk Space/Bandwidth
Spam & Virus-Protected Email Account
256-Bit Encryption provides privacy and protection for your personal information through Web-Based Email
"Phishing" fraud protection with technologies like Sender ID
Email Forwards
Faster Backup and Restore
Rebuild
Fonts
Google® AdWords® Credit
Microsoft® adCenter Credit

Publishing

Seamless integration with Google's® Site Mapping Tool
Publishing Times
Publish From Application
Add Meta Tags
Add Page Keywords and Descriptions
Site Analysis
Publish Log

Building

Click-&-Type Editing
Accordion-Style Interface
Forums
RSS News & More
Flash Intros - with Music!
.mobi-compatible (build a website for mobile phones!)
Video
HTML Editing
Spell Check
HTML Importing
Copyright Statement
Theme-based Categories
Your choice of professionally designed template
CSS Based Templates
Shared Content
Password-protected pages
Professionally Designed Color Schemes
Color Customizer
Multiple Color Themes
Specialty Content
Site Preview
Image Editing (editor/wysiwyg)
Text Editing (wysiwyg)
Custom Form Builder
Add Images (Over 8,000 free images included)
Publish a "Coming Soon" page in 3 easy steps
Built-in hosting
Expanded Workspace
That's a lot of features for an online website builder! Remember, hosting and email is included. If you think this sounds like what you need, check it out now >>.
Enjoy this page?
Link to this page (copy/paste into your own website or blog):
Link to Quackit using one of these banner ads.
Thanks for supporting Quackit!